How can you help your clients embrace "normal eating"?
In a culture full of dieting messages, rules and pseudo nutrition science, how can we normalize eating for patients with diabetes? How can you help your clients understand that eating and being hungry is a normal experience?
In her talk "Normalizing the Common Human Experience of Eating," Holly Paulsen, RD, CEDRD-S, LD, will discuss how to help your clients normalize the eating experience and develop self-compassion. In her private practice, Holly specializes in eating disorders and the intersection of eating disorders and diabetes. She uses a non-diet, weight neutral approach in guiding clients and, as a certified Intuitive Eating counselor, is committed to helping others make peace with food. She is also an approved supervisor with the International Association of Eating Disorders Professionals and enjoys mentoring other dietitians interested in working with eating disorders and disordered eating.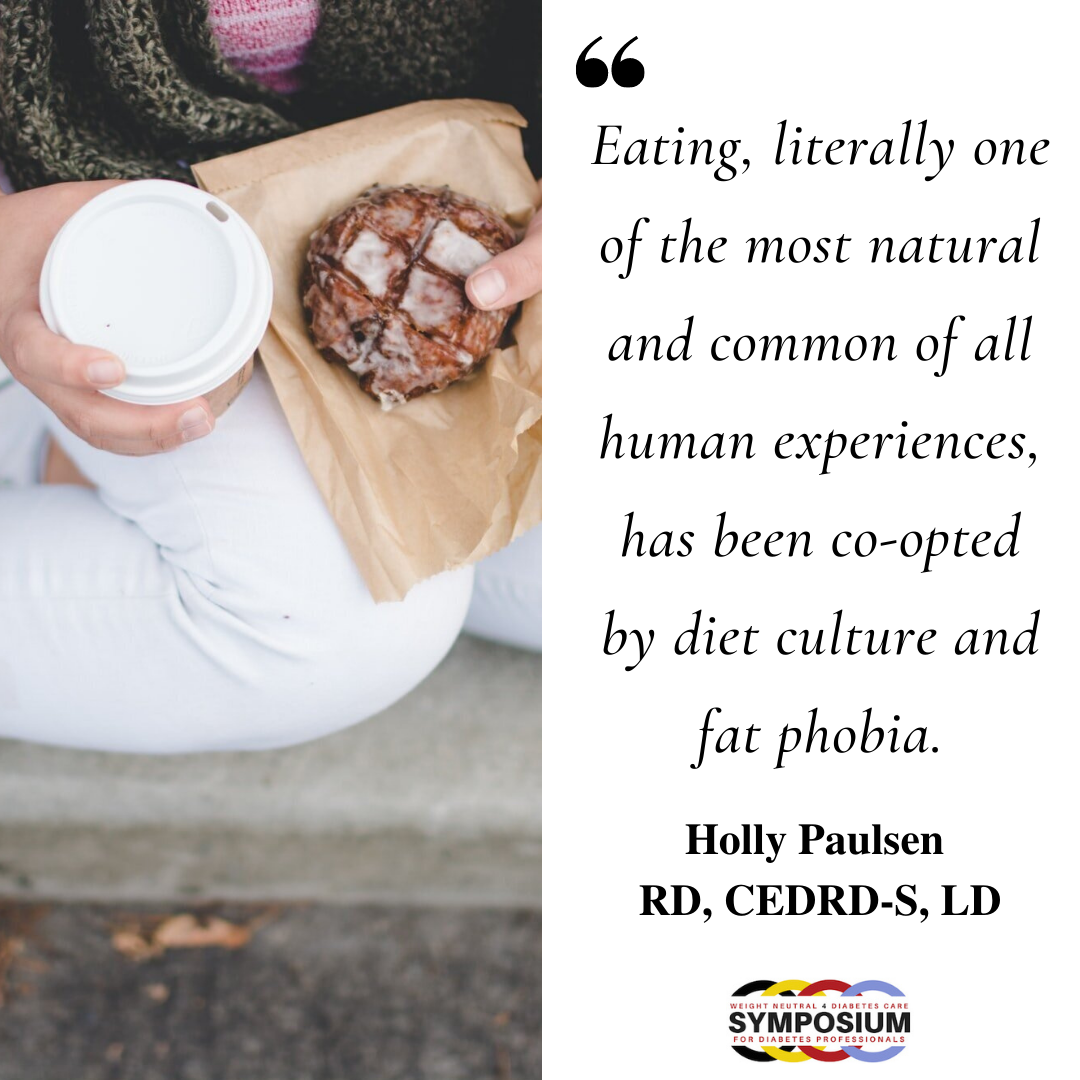 From Holly's talk, you'll learn the benefit of normalizing the experience of eating for clients with diabetes, understand the impact of self-compassion on eating and health behaviors, and come away with new counseling techniques and activities that can help foster self-compassion in your clients.
Learn more at the 2021 WN4DC Symposium
The learning is layered - This presentation dovetails nicely into creating compassion when food inequality and inequity affect our food system. This presentation by Chef Alex Askew is in the Health Equity Track


This conference is the only Health At Every Size program focusing on diabetes care.

We have brought together 16 amazing speakers, four tracks of curated, layered learning.

A private community where you can interact with your peers, win prizes and talk with the speakers during the week of their presentation.

It includes our bonus program on how Fatphobia fuels Health Inequity!
Virtual Learning Fatigue? These sessions are broken up into short "digestible" chunks filled with usable information and hands-on learning. This self-paced, conference won't make you feel rushed, and you can go back and listen to talks again and again.