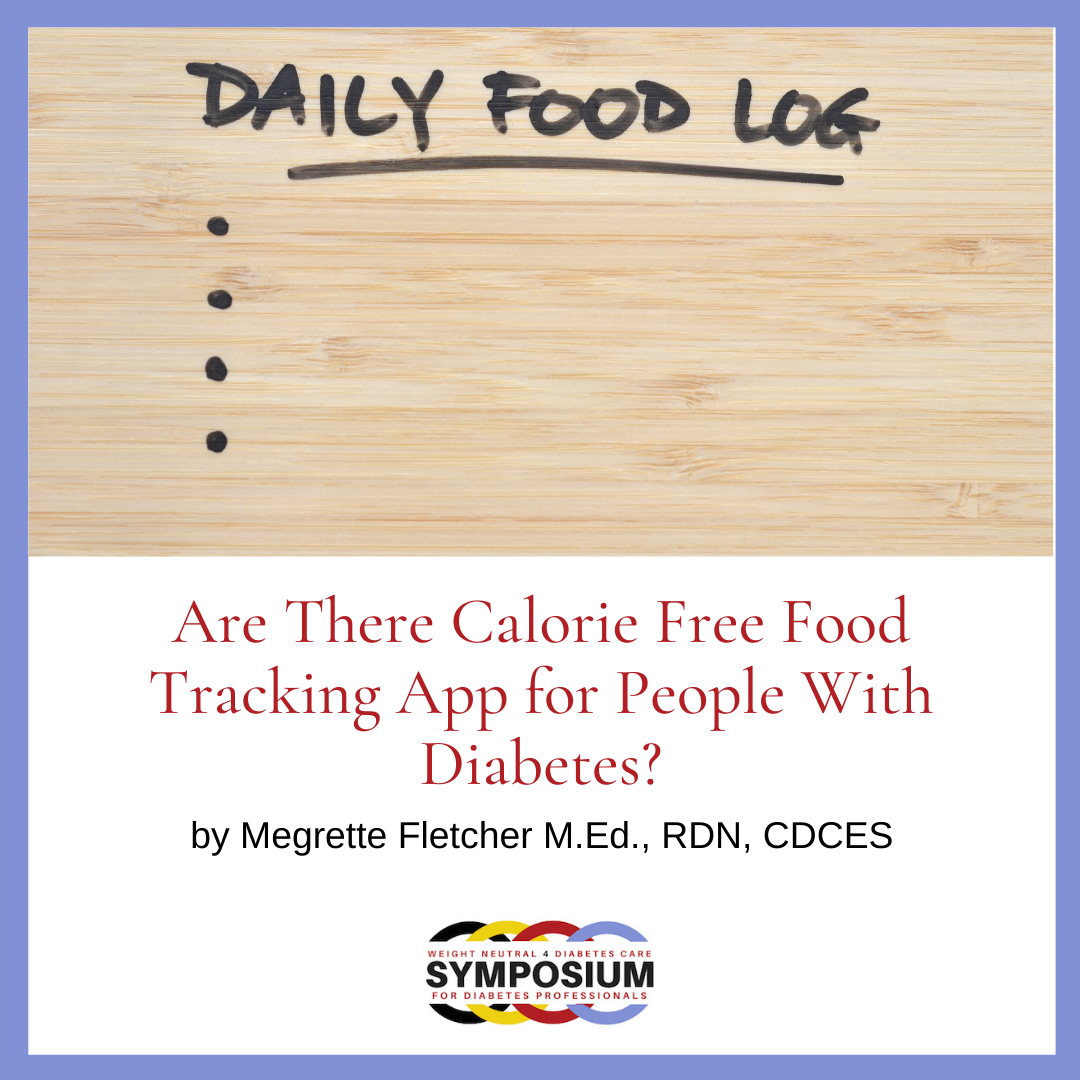 Are There Calorie-Free Food Tracking App for People With Diabetes?

What are some weight-inclusive technologies that you can suggest to your clients? The follow apps were suggested by weight-inclusive diabetes care professionals. There are some that are more like a traditional food log, and a few that can help you sync your diabetes information in one place.
You ATE food app The Ate app is the most mindful & easiest to use food journal ever.
It only takes 3 taps to log a meal.
What I liked - They are up front about how technology can be a bit juggy. We love that they say this upfront! "We try to make it as non-judgemental as possible.We don't track calories. Ever! It's not a magic pill. There is NO magic pill!"
What I didn't like - I haven't tried this application yet.
Here is a list of how it can help.
- Quickly log meals via photos.
- Easily reflect on and log why you ate.
- Build sustainable healthy behaviors for lasting change.
- Experiment with new habits, to see what works for you.
- Automatically track your fasting (IF 16/8).
- Stay accountable via friends or your coach.
- Share your day on Social media, if you are into that thing.
See How You Eat Food Diary App See How You Eat food diary app is a simple and easy-to-use photo food journal helping you with food tracking & regular eating — at the same time building healthy eating habits.
What I liked - Easy to use. It is pretty friendly. I have used this and thought is was pretty good.
What raised ny eye brow - They seem to be sitting on a fence regarding HAES. "We are against crash diets. We stand for permanent balance. Our vision is a world without dieting." Yet they claim that this app can help you, "be more energetic, lose weight, manage your weight, or to become mindful of your eating habits."
See your daily meals at a glance
Easy and simple to use — easiest food tracker food diary ever
Meal reminders
Feel more energetic
Get to your healthiest weight
Become mindful of your eating habits
Nourishly App - This app was adapted from Recovery Record for daily use. The Nourshly app is free to download.
What I liked about this app - almost everything. It is really well thought out.
What raised my eye brow - while they say it would work for someone with diabetes, the settings are too clunky and not sophicated for anyone on MDI, or using any type of technology (like CGMS or a pump).
For people with diabetes:
Body positive messaging and diabetes
We love the health at every size messaging #HAES
You can track your sleep
Medication reminders, Insulin tracking, Blood glucose tracking
Sleep tracking, Exercise tracking
Duke University has been using Nourishly. Duke did clinical trials with people with both diabetes and eating disorders and reports, better insulin management and blood glucose and decreased diabetes distress.
Am I Hungry - This app using the Mindful Eating Cycle to help guide decisions.
Insert the Mindful Eating Cycle. The Am I Hungry?® Mindful Eating Virtual Coach was designed to help you end futile restrictive dieting and resolve mindless and emotional eating.
What I liked about this app - it is a simple app, that is focused on help someone use the Mindful Eating Cycle.
What raised my eye brow - "Whenever you feel like eating, simply click "I want to eat" and the app will guide you through the process step by step." Most of my clients are looking for a way to track what they are eating, which this app doesn't do.
Applications to help with data management.
Diabetes:M - Track blood sugar, food and can send reports to providers.
Management is more of a data management application. The focus is to move data across devices to one place. This would be CGMS or blood sugar, food records and insulin dose. It works to download the data from different devices into one place.
Diabetes:M gives you a categorized list with most common foods and products. You can easily find and track what you eat.
There is integration with external food databases:
FatSecret – Food and diet management service
USDA – United States Department of Agriculture
BEDCA – Spanish Food Composition Database
You can also add your own products and portions to the database, and select and filter by favorite foods. It links with other diabetes technologies (apps, pumps, CGMS)
Jade & Diabetes Connect food apps for carbohydrates, protein, fat and fiber data from 5 million foods. Add connected glucometers and CGMs for blood glucose data. Connect digital insulin pens for injected insulin. Connect fitness apps for exercise data. Connect period trackers for menstruation data. Connect pain trackers for pain data. Calculate doses using ALL your data. Track insulin on board (IOB) to avoid over-dosing. Real, actionable data – see how many carbs to eat when too low, and how long to delay eating when too high. Minimize damaging glucose variability. Personalize factors for low, medium and high impact exercise, stress, menstruation, sickness, pain and even alcohol.
Sugar Mate - focuses on connecting your phone to your CGMS and providing alerts. This is helpful for caregivers who are dealing with hypoglycemia issues. It includes data tracking
Glooko - is about data management and syncing devices.