Helping bariatric surgery patients embrace a weight neutral approach to diabetes care
It might seem challenging to apply Intuitive Eating and Health at Every Size (HAES) principles in bariatric surgery patients who have extensive histories of disordered eating and possible disconnection with interoceptive cues—but it's possible.
In her talk, "Re-nourishing and Reclaiming Health After Bariatric Surgery," Narmin Virani, RD, LDN will discuss how to help clients who have had bariatric surgery heal their relationship with food and rediscover how to nourish their body. Narmin has been a registered dietitian for 17 years, including 10 years integrating mindfulness meditation with nutrition counseling. She also has seven years' experience in bariatric surgery, where she integrated intuitive eating principles with people who had histories of dieting and weight-cycling. Narmin has published a research article on the benefits of mindful/intuitive eating in this population and is now a firm advocate for weight-inclusive healthcare.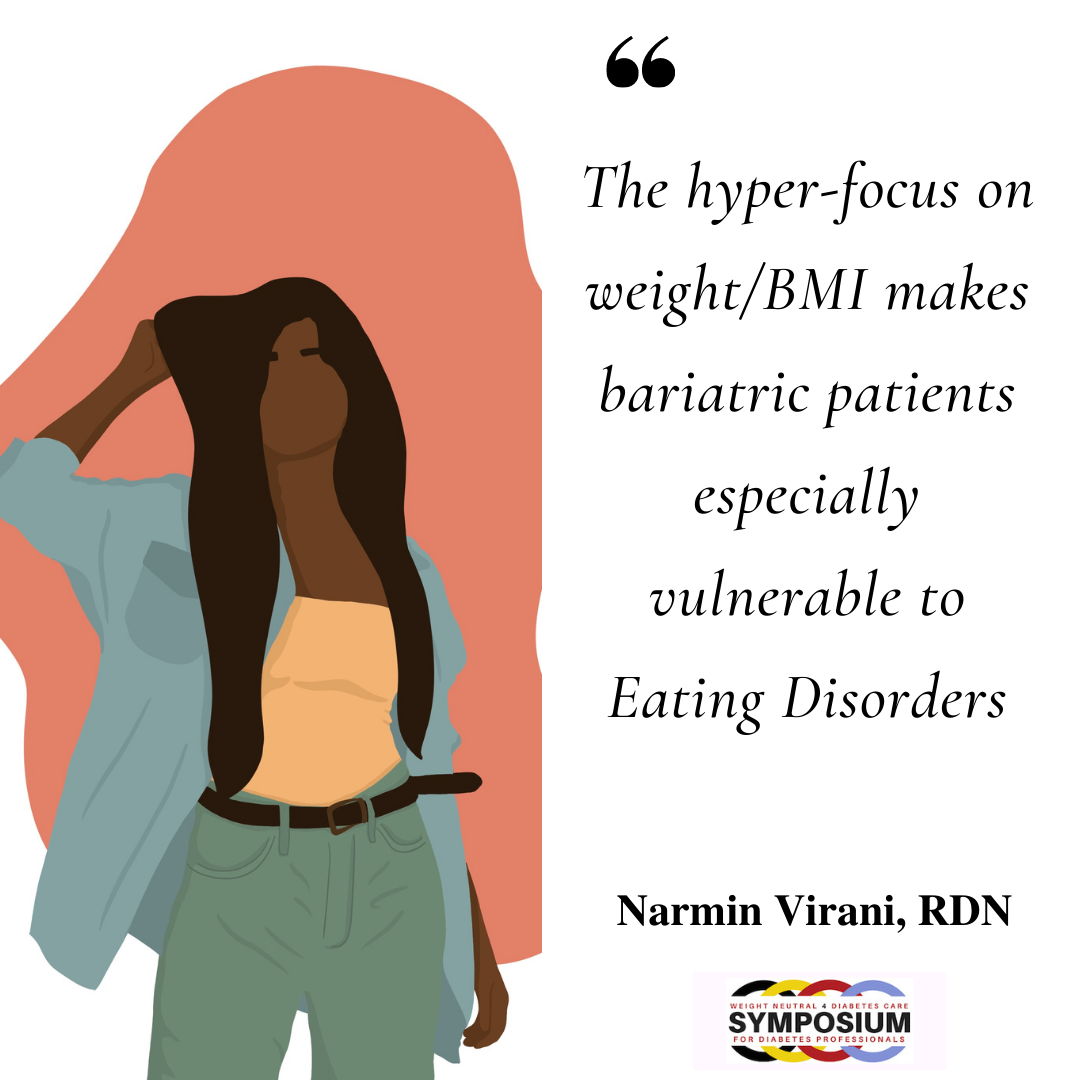 Narmin's talk will help you understand how to work with patients who previously underwent weight loss surgery and are struggling with disordered eating and diabetes. You'll learn specific strategies for helping them heal their relationship with food, as well as the key macro and micronutrients clients likely need three-to-five years post weight loss surgery.
The 2021 WN4DC Symposium provides 18.5 CPE!
The learning is layered - This presentation is a great way to move into the final Disorder Eating Track which will help you prevent, recognize, and feel more confident counseling disordered eating clients with diabetes.

This conference is the only Health At Every Size program focusing on diabetes care.

We have brought together 16 amazing speakers, four tracks of curated, layered learning.
These sessions are broken up into short "digestible" chunks filled with usable information and hands-on learning. This self-paced, conference won't make you feel rushed, and you can go back and listen to talks again and again.