Struggling to find and recommend weight neutral resources to your clients?
When a client expresses thoughts or behaviors around disordered eating, how do you best support and connect them with resources to meet their needs? Books and other activities help clients stay engaged between appointments…but which books and activities are best?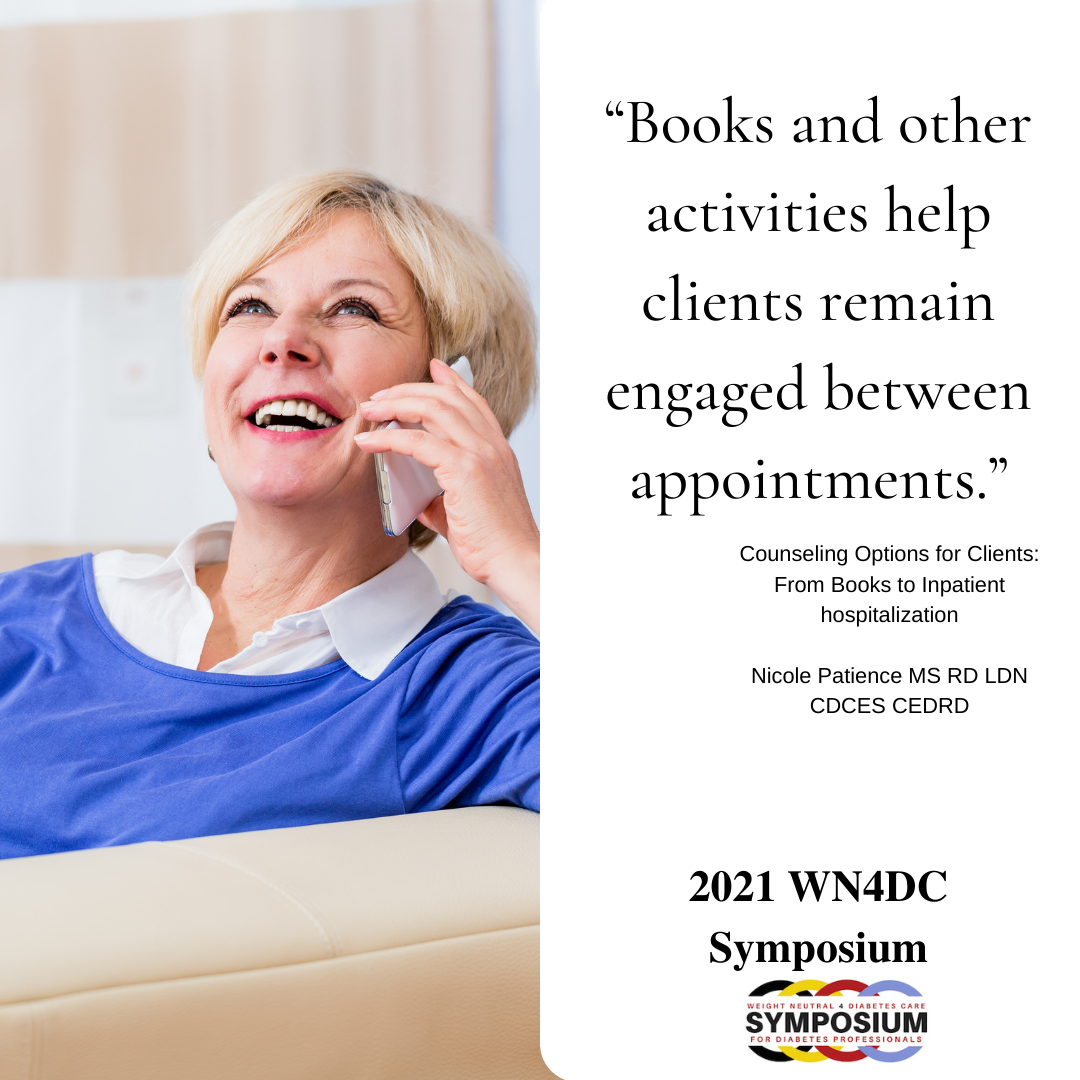 In her talk, "Counseling Options for Clients: From Books to Inpatient Hospitalization," Nicole Patience, MS, RD, LDN, CDCES, CEDRD will review helpful weight neutral resources that will not promote or trigger disordered eating. Nicole supports individuals at both the Joslin Diabetes Center in Boston, MA, and the Counseling and Nutrition Center 360 in Lexington, MA. She is a Certified Eating Disorders Registered Dietitian and a Certified Diabetes Care and Education Specialist with additional expertise in food allergies and hypoglycemia.
After hearing Nicole's talk, you'll be able to make solid recommendations for client-centered books and social media-based resources to support your clients' recovery from disordered eating. You'll also understand how to determine whether a client requires more support than outpatient care alone, and how higher levels of care support recovery.
Are you looking for other resources? You might like 11 Tools for Professionals Using Weight Neutral Diabetes Care or why now check out the 2021 WN4DC Symposium.
Quick Overview of the 2021 WN4DC Symposium
This conference provides 17 CPE! from The Commission of Dietetic Registration

This conference is the only Health At Every Size program focusing on diabetes care.

We have brought together 16 amazing speakers, four tracks of curated, layered learning.

A private community where you can interact with your peers, win prizes and talk with the speakers during the week of their presentation.

It includes our bonus program on how Fatphobia fuels Health Inequity!
These sessions are broken up into short "digestible" chunks filled with usable information and hands-on learning. This self-paced, conference won't make you feel rushed, and you can go back and listen to talks again and again.